Skip to Content
Luxury In The Heart Of
Rittenhouse Square
Scroll Down
Philadelphia's
Boutique Beauty
Just behind the famous (and often photographed) red door on Rittenhouse Square, discover a lavishly reimagined hideaway in the heart of Philadelphia. Historic, intimate and luxuriously unique, 1715 on Rittenhouse reveals an all-new take on city sophistication, recalling an era when details made all the difference.
Why Book Direct
Complimentary Continental Breakfast
Complimentary WiFi
Molten Brown Amenities
Luxurious Robes
Hair dryer in all rooms
Frette Linen: Since 1860, Frette has introduced elegant comfort to discerning clients around the world by way of masterfully crafted linens and decorative home accessories of unparalleled quality. At 1715 on Rittenhouse, enjoy Frette's finest bed linens, pillows and comforters and relax wrapped in plush Frette bath towels and sumptuous velour robes.
Meeting Spaces: We offer coffee and tea | AV options available
What Guests Love Most
An In-The-Know Concierge
From dining reservations at Philadelphia's hottest new restaurants to transportation in and around the city, our concierge knows the neighborhood and is ready to assist around the clock.
Reviews
We're Blushing
"Loved everything about this boutique hotel. Room was very comfortable, staff is friendly and everything is nearby. Took about 5 minutes to walk to the Big Red Bus stop. Would definitely stay here again."
- travellos88
We're Blushing
"We loved our stay at 1715 on Rittenhouse. The hotel team were all lovely, friendly, and helpful. The hotel has so much character and the rooms are simply lovely. "
-Terri G
We're Blushing
"I'm not sure what we loved more - the beautiful and comfortable rooms, the genuine warmth and hospitality from the staff, or the perfect location in Center City! For us, it was probably the staff that made our stay so wonderful. Can't say enough good things."
-Bombvivant
We're Blushing
"This was a lovely hotel in a perfect location to enjoy lots of what Philly has to offer! The staff was friendly and helpful. The room was spacious and the bathroom was amazing! I especially appreciated the extra-large bath towels. I'll definitely be back!"
-Lnklein06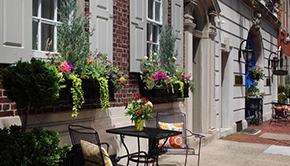 LOCATION
Exclusively Rittenhouse
Located in the beautiful Rittenhouse-Fitler Historic District, 1715 on Rittenhouse is just a short stroll from the city's best shopping, dining, and nightlife.
VIEW MORE